Chicken 'n Dumplings - Poem by Marilyn Lott
On a cold day you want something warm
I know I do, and for that reason I cooked
Chicken 'n dumplings for dinner
I can show you just how they looked.

The flavors were added so carefully
I slowly cooked chicken, veggies and then
Dropped dumplings into the hot broth
Oh yes, it was just the perfect blend.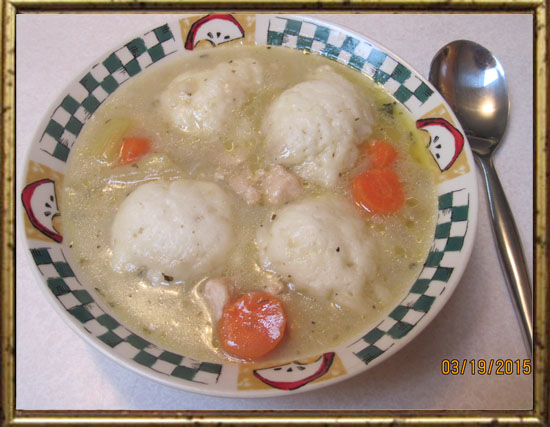 Unwrapping...
Kacie is ten-almost-eleven -years-old and she is
determined to have her most favourite food of all for
dinner....chicken and dumplings. Her parents promise to make her her dinner of choice but somehow it never gets made. They opt for fish and root
vegetables, their favourites. She was hoping her sister Sandra might support her, but alas it is not to be.
Kacie then decides to go on a hunger strike. For three days she refuses to eat until she gets her beloved meal set before her. Her dad, who she is closest too, brings her a puppy in return for his favourite daughter to eat once again. Kacie takes the bait (but not the fish and root route) and makes up her mind she will indeed eat once again making her family very happy indeed.
Her best friend Holly is ecstatic over Kacie's new puppy and together they work with the pup to train him and together they politely ask her parents if perhaps they could make the chicken and dumplings. The coveted dish turns out to be a family project and the two friends stuff themselves until they can hold no more.
A new boy, Paul, starts attending their school and Holly becomes enamoured with him leaving poor Kacie out in the cold. But guess what? Paul is more interested in talking to Kacie although she hardly gives him the time of day. Will she change her mind and accept his friendship? Will Holly be upset and not be her friend anymore because of her interest in the new boy? What a dilemma!
This book has a wonderful message supporting family life and working with each other through family member's idiosyncrasies. I loved the fact that Kacie involves her whole family in her decision making and that her parents were very willing to support and work with their daughter to bring about a happy ending. Strong family units are very important and this message came through very powerfully
in the book.
This book is written in chapter format and is perfect for ages 8-12. It is the 8th book in "THE TOO CLEVER" series.
I began writing professionally at the age of 19. At that time, I wrote short stories for the local radio station in my home town. I gave up writing when I moved to the United States to attend college. I have since earned several degrees, including two Masters and a Doctorate in Higher Education Administration from Northeastern University in Boston. During the course of my schooling, I wrote and published a working curriculum for a career school, a business manual and its answer key, as well as other literary work. In 2010 I revisited my first love, writing for fun and enjoyment.
I live in a small town in Connecticut, where the closest thing to a mall is a shopping strip, so nothing exciting happens there. My dog Bondine is my favorite companion when I take up pen and paper to write .
Many of my stories are set in the places I've visited. My children's books are about the children I encountered and a large part about my own childhood.
I love to write stories about talented, inquisitive, and curious children who are thirsty for knowledge. My own children fall into that category.
When I'm not writing children books, I write romance novels under a pen name, Ju Ephraime. Oftentimes, I take the time to visit the places in which my stories are set, which is the icing on the cake. My second love is traveling, and those times when I can combine writing with traveling, I'm usually in writers' heaven because I'm doing my two most favorite things…
Read on and read always!
It's a wrap.
Contact me at: storywrapsblog@gmail.com